My Ugly Truth New Orleans Book Launch & Panel Discussion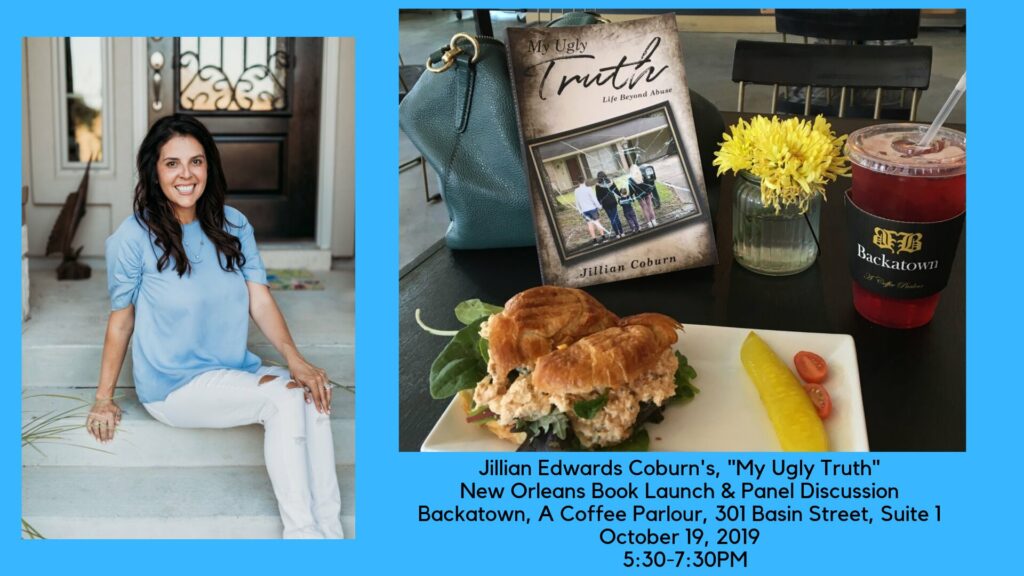 Jillian Coburn's new memoir, My Ugly Truth: Life Beyond Abuse, sheds light on surviving addiction, sexual, psychological and financial abuse and domestic violence as a mother rooted in faith.
October is Domestic Violence Awareness Month. In honor of all the victims, Jillian has created a Panel of Experts in the field of Domestic Violence to create awareness within the community.
Please join us for this FREE event with complimentary light bites and tremendous resources and information.
When: Saturday, October 19, 2019
 5:30-7:30PM
Where: Backatown, A Coffee Parlour
   301 Basin Street, Suite 1
New Orleans, LA 70112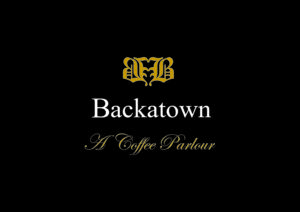 For more information, contact Picnic Media.
Mandy Pumilia, Founder [email protected]
Panelists: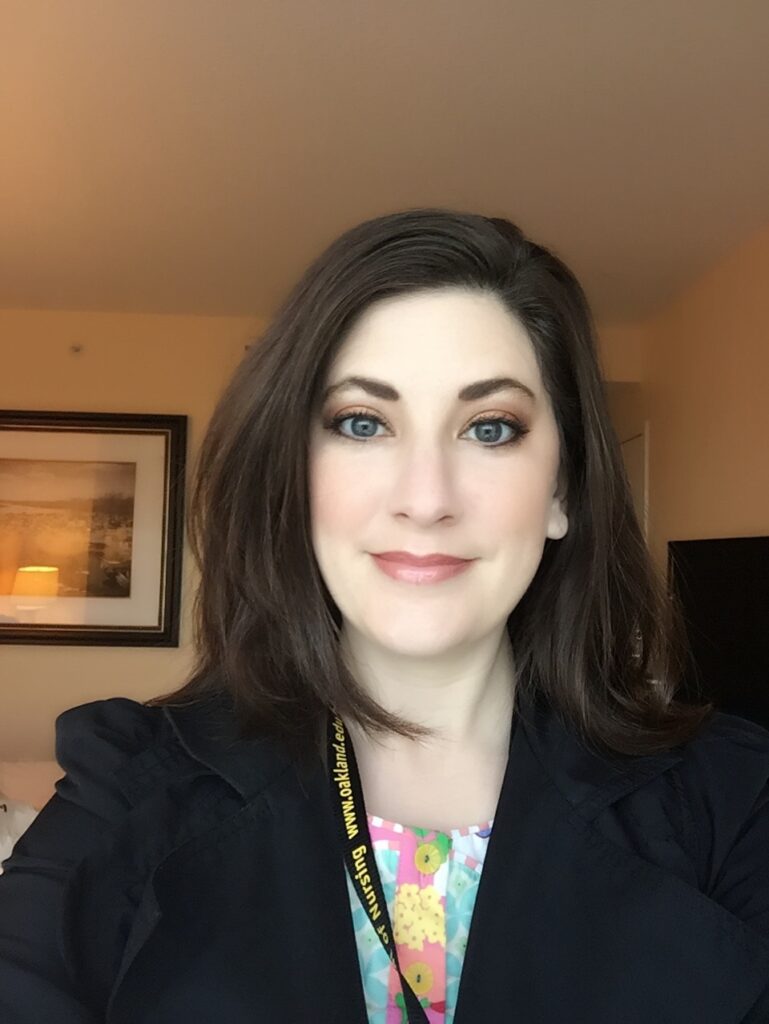 Ginesse Barrett
Forensic Nurse Examiner
Program Coordinator
St. Tammany Parish Corner's Office
Runs St. Tammany parish Office's Forensic Nursing Program, which includes a travelling SANE (Sexual Assault Nurse Examiner) Program, where she has worked since August 2016. Both she and her team provide SANE exams to 11 hospitals in 5 parishes. Additionally, she provides Postmortem SANE exams, assists with Death Investigation, Morgue Technician duties, and issuing OPCs (Orders of Protective Custody).
Regional Council Member for STAR (Sexual Trauma Awareness & Response).
International speaker on topics of Drug Facilitated Sexual Assault, Postmortem SANE exams, and Elder Sexual Abuse. Also has performed various trainings on the local, state, and national level.
Performed exams & ran program at Interim LSU Hospital/University Medical Center from 2010-August 2016, which is the only adult SANE program in New Orleans.
Board-Certified as a SANE-A (Sexual Assault Nurse Examiner for Adult & Adolescents.)
Serves as the Medical Expert on Senator J.P. Morrell's Louisiana Sexual Assault Taskforce, which helped to address statewide polices including campus sexual assault.
Graduated in 2005 from SLU with a Bachelor's degree in Nursing & worked as an Emergency Room nurse for many years before becoming a full-time SANE.
2016 President of the Louisiana Chapter of the International Association of Forensic Nurses (LAFN).
Member of the New Orleans Mayor's Taskforce on Sexual Assault until August 2016.
Worked closely with NOPD SVU, the Orleans Parish District Attorney's Office, the Office of the Inspector General, & various Advocacy organizations to improve the Orleans Parish response to sexual assault.
Has performed approximately 430 sexual assault exams in her career.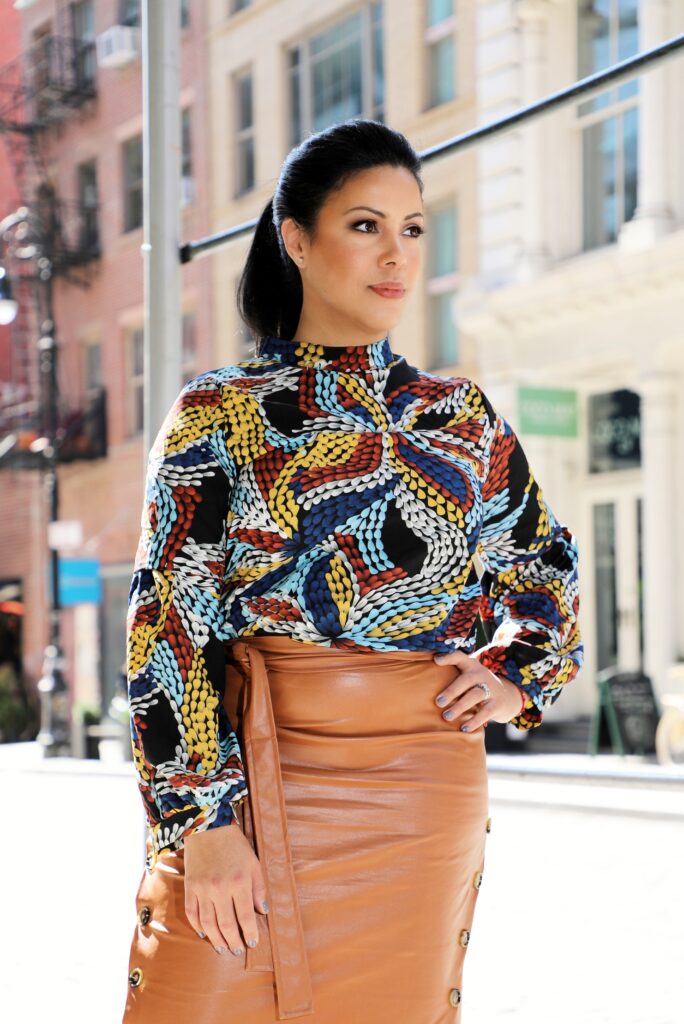 Vanessa Coppes
CEO BELLA Media + Co.
Editor-In- Chief Bella Magazine
CO-Founder ETT Women
Author
Vanessa Coppes is an author and entrepreneur. She is the Founder of V+Co. Consulting, who recently became the CEO of BELLA Media + Co., the Editor-In-Chief of BELLA Magazine, the co-founder of ETTWomen and the ETTWomen Foundation.
Having overcome her own challenges, Vanessa is a dedicated advocate of women whom have been victims of sexual assault, domestic violence, and mental health. Her passion is to connect women to one another, in support of each other. Through her blog, print magazine and social media channels, she shares resources for women looking to live more fulfilled lives while building businesses they love.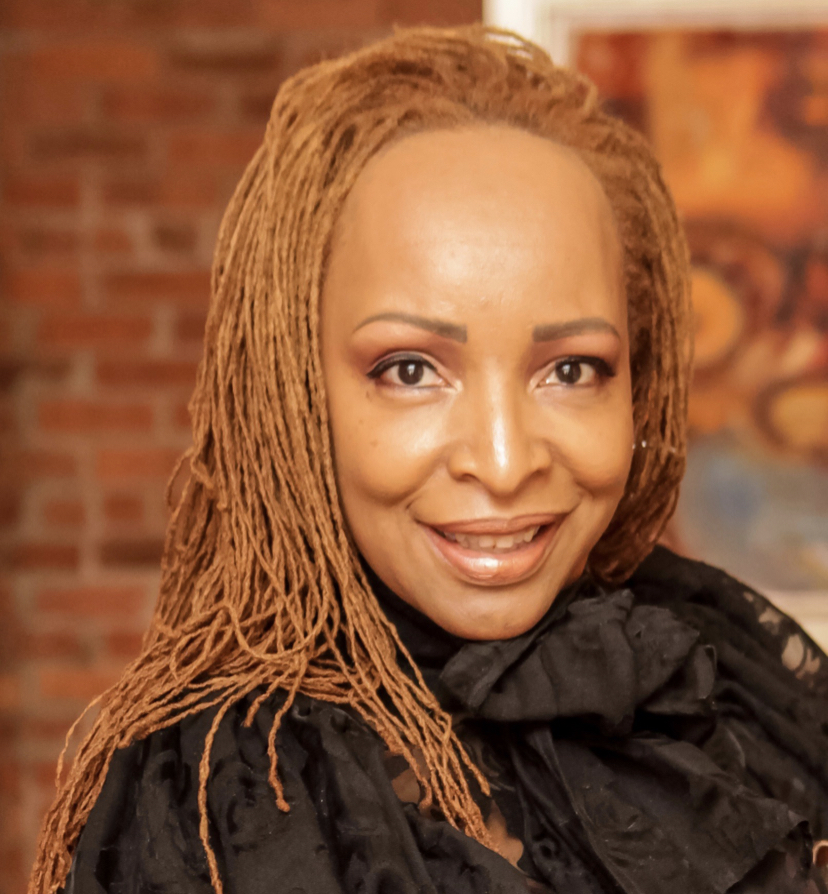 Joi M. Stanley
CEO, Loc Soc Founder,
Progressive Achievers Inc.
Creator of Being your Best Author
From high-powered corporate executives to small business owners, Joi M. Stanley will ignites your passion to up-level your business and use research-based techniques and tools to keep your business sprinting forward. As an Executive Strategist and Business Development Strategist, Joi…Conducts a needs assessment for every client.  Determines where your business should be headed.  And creates an action plan for you to get your business moving forward.  As a Self-Discovery Strategist and Motivational Speaker, Joi …Helps her audience to shift their mindsets from fear to fierce.  Enables you to let go of any fear that holds you back… "Releasing the Pause"
And empowers you to rise from confidence-crushing ashes and create a life you never thought was possible.
Joi M. Stanley's mission is to Empower, Educate, and Motivate, those who aspire to reach higher levels in life, relationships, health & wealth. Joi's process fosters an environment of ownership, reliability & trust. She shows you how to take responsibility for who you are, and what you hope to accomplish in your life &/or business.
As CEO of Loc Soc, Joi has spent countless hours speaking in front of audiences that range from Corporate Executives such as Wells Fago, Blue Cross/Blue Shield, Merck& CO., PSEG, to school age girls between Essex and Union Counties just to name a few with her empowering message to Level-Up in your life and business/career.HER SIGNATURE MESSAGES…"Release the Pause Button" empowers her audience, through the power of Self-Discovery, to never put your life on hold because of fear or lack of self-esteem.
"The Big Ask" motivates her audience to unleash the power of asking for what you want.
"What Do You Really Want" inspires her audience, through the power of focus and vision, to discover what you truly want out of lifeSPECIALTIES Business Development Strategist: is the Soup to Nuts program where I help entrepreneurs develop their roadmap to success. Here I coach from the point of business planning to execution. Together, we create ways to build your business, and then, take your business to the next level. This program has had no less than a 90% rate in increased company productivity since 2003.Executive Development Strategist: is a Sales and Marketing Program that is based on the needs assessment of the company. From the needs assessment, I deliver a team-building platform, motivation techniques, and sales & marketing tools for success. 93% increase in sales productivity since 2003.Self-Discovery Strategist: as a Licensed Certified Professional, I have mastered the technique of helping you "Release the Pause Button" through the process of Self Discovery. As a Self-Discovery Strategist, I encourage my clients to understand the power of owning their shi…(stuff). Through this process, you will shift your mindset and begin creating a life that you never thought possible, because you put yourself on "Pause" due to fear, lack of esteem, negative association, etc. 100% money back guarantee. To date, 100% SATISFACTION since 2010!
To date, Joi M. Stanley is busy in what she has a passion for, Inspiring, Educating and Motivating Women and Young Girls, and has added another nugget to her growing empire.  Joi has successfully created a weekly Being Your Best Monday Morning Motivational call, dubbed "Monday Morning Dose of Verbal Caffeine" and invites you to join the call every Monday Morning from 7:00 a.m. – 7:30 a.m. est.   Call-in # 1-646-558-8656 or 1-408-638-0968 online via https://zoom.us use meeting ID: 248 857 8534.  Joi remains dedicated in her mission and works tirelessly to accomplish the task of helping whoever is ready to reach their goals.  Author Joi M. Stanley announced her first book titled BEING YOUR BEST -Your 52-week Journal of Self-Discovery released September 2017.  To learn more about Joi M. Stanley, feel free to visit her website at www.joimstanley.com or email her at [email protected].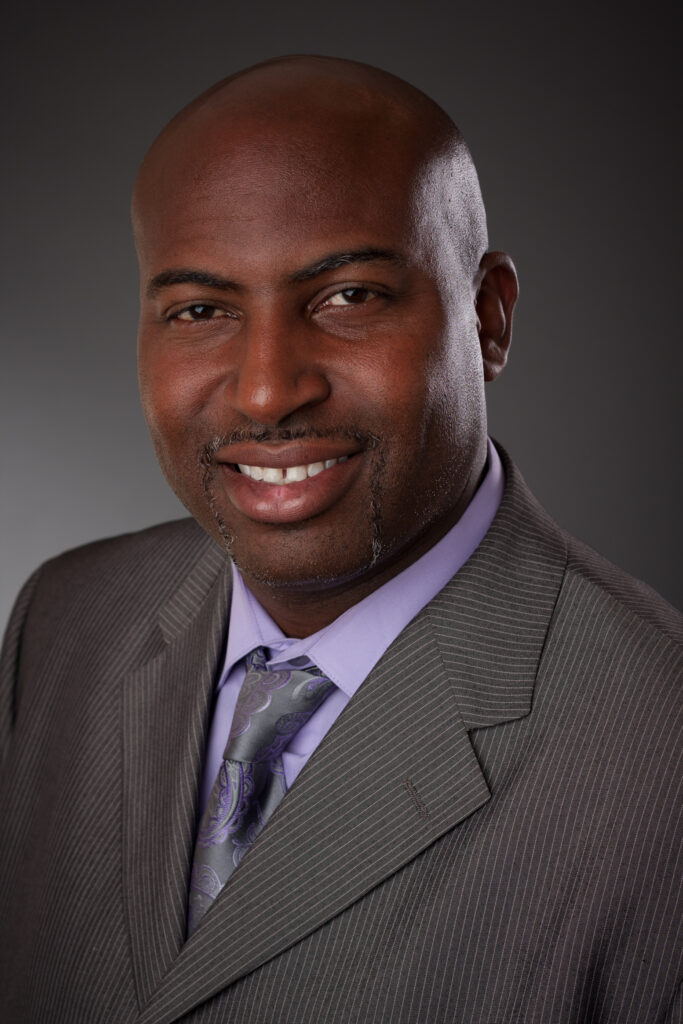 Master Jason Horne
Founder, XS Martial Arts
Master Jason B. Horne is the founder and master instructor of the MA-KIBO-KARATE-DO system of XS Martial Arts Dojo (XS MAD). He
received his college Associate's degree from Delgado Community College and other similar studies contributed significantly to his education and continue to interest Jason even today. He is a retired veteran of 21 years of service in the United States Air Force (Louisiana National Guard). Master Horne and his wife Monica F. Horne both oversee the operations of the martial arts school. He has two wonderful boys who are successful black belts as well.
He is an accomplished and well-respected martial arts master instructor who has dedicated over 29 years of his life to the martial arts. He established XS Martial Arts Dojo in 2002. And presently holds the rank of 7th degree black belt in various styles. He has been inducted into the Martial Arts World Hall of Fame 2008 & the Masters Hall of Fame 2010 for his Humanitarian work. As a community advocate, he has come into contact with thousands of children/students in the Greater New Orleans. He is dedicated to keeping kids off the street and giving them something constructive to do with their time, he believes that by instilling these principles in all youth, it will produce positive and respectable individuals.
Master Horne's philanthropic efforts has been consistent, as he is also the founder and executive director of S.O.N. (Save One Now); a non-profit 501(C) 3 organization that focuses on families and the youth of the metropolitan New Orleans area. This organization was founded for the purpose of reinforcing XS MAD's anti-crime efforts in schools and communities throughout the city.
Many have gone to him for motivational inspirations and coaching in their everyday life and he has helped to guide professionals, entrepreneurs and small business owners to enjoy professional success and a fulfilling personal life. Through personal and corporate coaching programs, he tries to empower people to achieve success that's balanced and has helped employers create a more supportive work environment for these valued employees.
He was one of the 30 graduates from the first cohort of the Goldman Sachs 10,000 Small Businesses initiative aimed at under-served communities. After being accepted into the program, he was instructed how to operate and grow his business. "I would say that a lot of the things that I've taken from that program have boosted my growth and revenue," he says. "When we finished this program, we understood that regardless of what business you're in…the business side of business is still business."

Shirley H. Young
MSW, LCSW-BACS
Shirley Young moved from the Big Apple to the Big Easy in January 2007 to attend grad school at the Tulane School of Social Work for her Master of Social Work Degree. 
Shirley is a Licensed Clinical Social Worker and Board Approved Clinical Supervisor in the State of Louisiana, associated with Metro for the past 12 years in various advocacy roles, and full time since 2013, as a trauma therapist for survivors of domestic violence and sexual assault.
Shirley is an active member of the community. She is on the board of her neighborhood association, attends meetings of the Mayor's Office of Neighborhood Engagement, and recently participated in the Civic Leadership Academy and the Nancy M. Marsiglia Institute of Justice.
Shirley enjoys walking around New Orleans, going to museums and historic sites, and long drives through the countryside.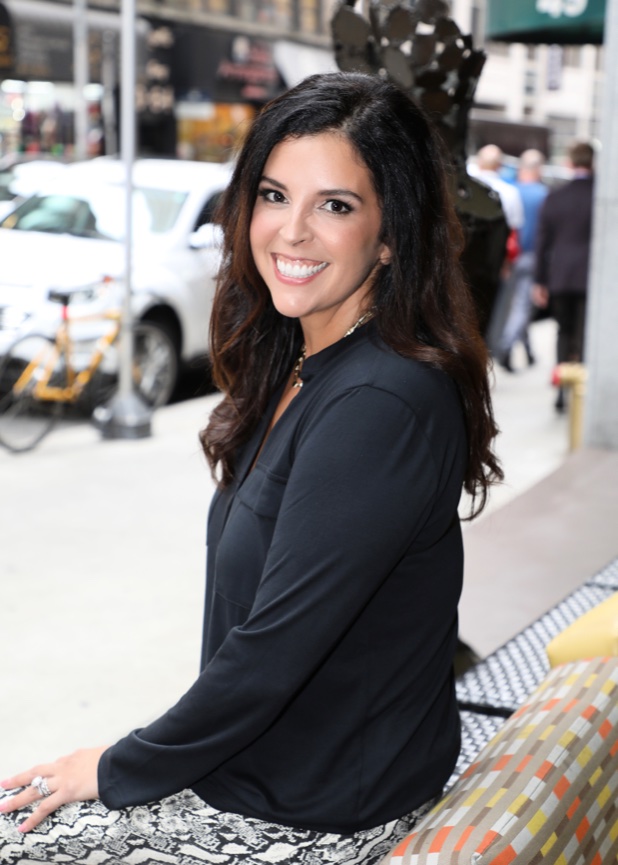 Jillian Edwards Coburn
Author
Entrepreneur
Inventor of MommyGo-Bag
Jillian Coburn is an entrepreneur, inventor, outdoorswoman, and mother of three who is passionately committed to supporting and elevating women who have nowhere to turn and living under the shadows of domestic violence. A survivor herself, Jillian energetically assists women living with abuse by empowering and teaching them how to get out, heal and build a life they've always imagined. In her book, Coburn shares resources and tools of how she helped herself in hopes to help other women break the cycle of addiction, abuse and despair.
Jillian is co-owner of NOLA Prestige Electric, a women/minority based contracting company. She is also an up and coming inventor soon to release a product invented for families with kids and who have animals.
Coburn also founded the apparel line, Reel Housewives of the Deep South, in 2014, producing one-of-a-kind American-made designs for Southern women who love the outdoors and choose "catfishing over catfighting!"
Jillian spends her time on the lake or at home creating new books. She is readily involved with PTA and is the president of Fundraising. She enjoys traveling and spending time with family. Jillian lives and works in Lago Vista, Texas with her husband and three children.
Moderated by: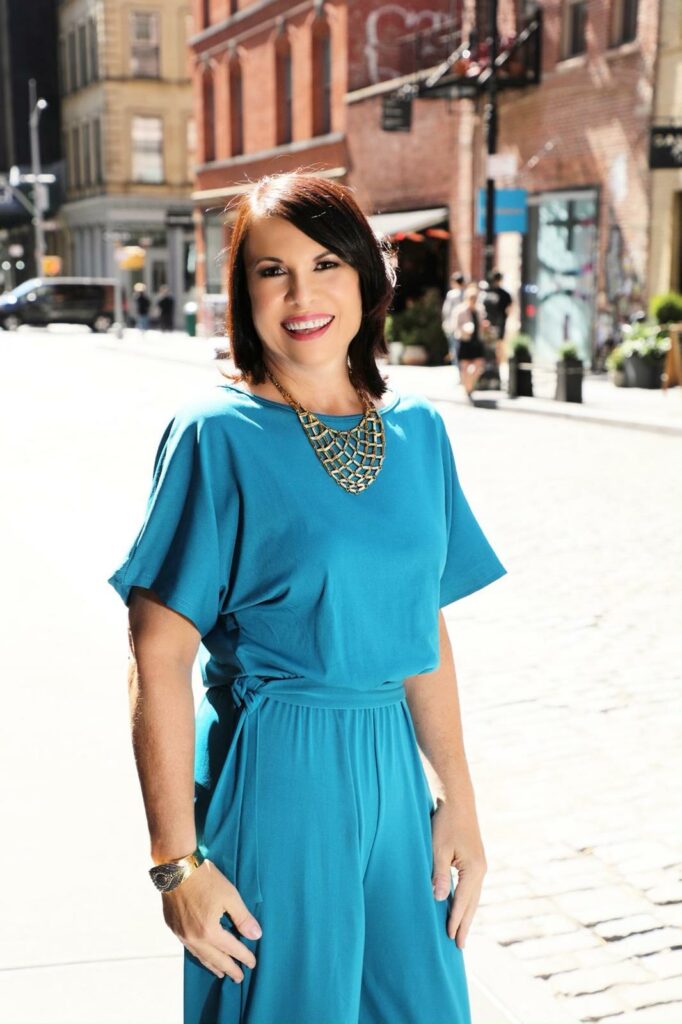 Lynette Barbieri
CEO LynetteWork
CO-Founder ETT Women
Creating success for one's self is never easy but native New Yorker and proud mother of four, Lynette Barbieri, knows a thing or two about building a business on her terms. Lynette's passion and drive have allowed her to succeed despite the odds as when she started her own financial business with little sales experience and no financial background prior. 
Along with her ability to collaborate, build relationships and make connections, Lynette managed to earn a six – figure income from her business in just a few short years. For 23 years, Lynette has successfully educated individuals on how to take control of their finances, get out of debt and provide a roadmap for a financially secure retirement. 
In addition, Lynette has used her platform to motivate as she's guided hundreds of individuals into successful sales careers and has led countless workshops, along with being a public speaker and an avid personal development reader as well. 
In 2012, Lynette embarked on her next venture as co-founder for The Entrepreneurial Think Tank For Women. There she shares her rich experience in sales, marketing, recruiting, and training to assist members with their goals and build their own successful businesses. 
As a result of this venture, Lynette and her business partner decided to further use their platform for good with the formation of the ETTWomen foundation in 2017. The foundation was developed as Lynette and her partner were moved to assist women in crisis due to sexual abuse, domestic abuse and financial hardship. 
All of Lynette's varied experiences and expertise came together in 2016 with the birth of her own consulting firm 'LynetteWork.' LynetteWork is built upon her brand of connecting and brining like- minded people together. Lynette fully believes and lives by the saying; "Together we achieve more."
As an entrepreneur, Lynette believes in the value of hard work, determination and always strives to build others up. In her newest venture as advertising sales representative for BELLA Magazine, Lynette is excited and is more than ready to meet new people, try new things and face every challenge head on.