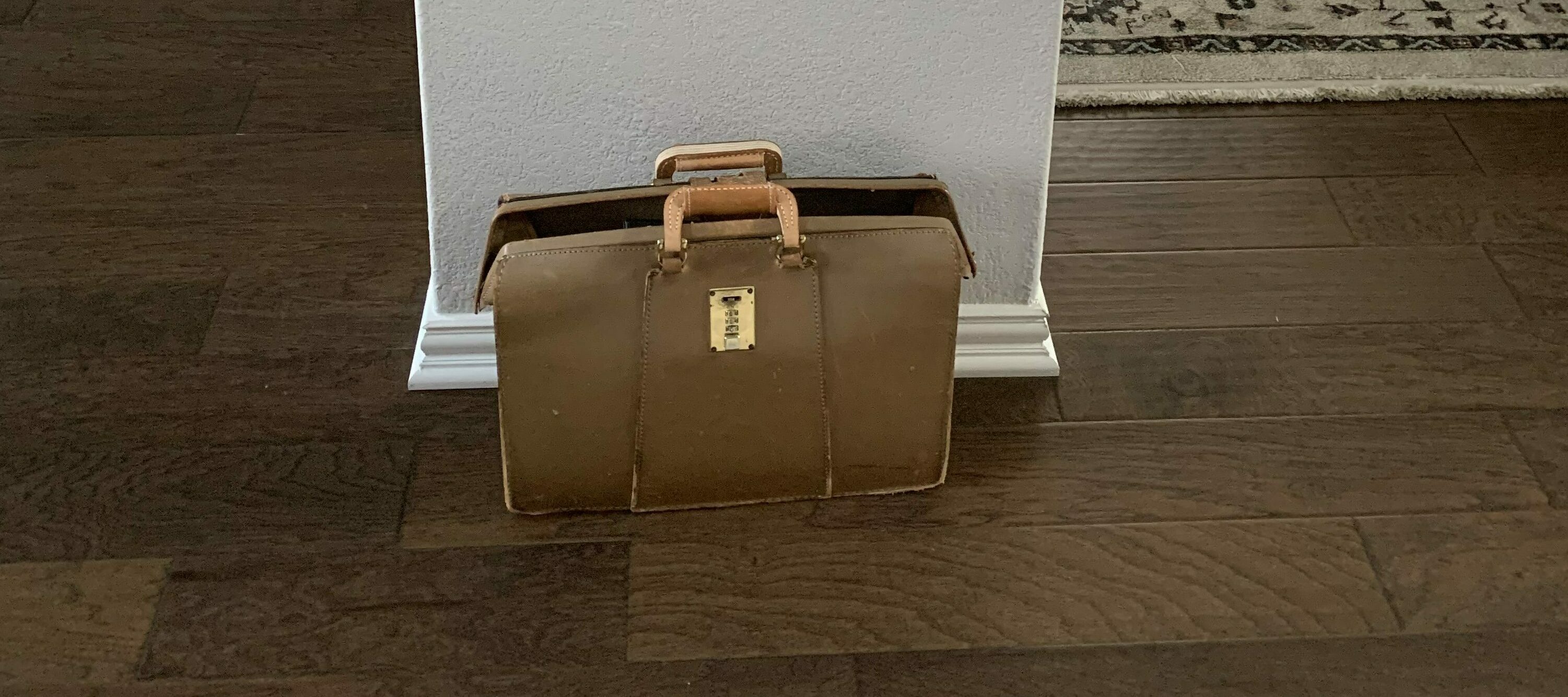 The Brown Suitcase
1 Samuel 12:20-25
Samuel said to them, "Don't be fearful it's true that you have done something very wrong.  All same, don't turn your back on God!  Worship and serve him heart and soul! Don't chase after ghost's gods.  Theres nothing to them. They can't help you.  They're nothing but ghost gods.  God simply because of who he is not going to walk off and leave his people.  God took delight in making you into his very own people.  And neither will walk off and leave you.  That would be a sin against God! I am staying right here at my post praying for you and teaching you the good and the right way to live.  But, I beg of you, fear God and worship him honestly and heartedly.  You've seen how, greatly he has worked among you! Be warned:  If you live badly, both you and your king will be thrown out.  
I read this scripture yesterday and as I was reading I heard in my heart to love the Lord passionately.  
We are constantly going…Constantly waiting for the next high life will give us. As we ended Holy week, that Wednesday I reflected on what happened the day before.  My mother in law came to help me with my children as my husband had shoulder surgery.  I needed an extra hand with the kids and the hubby.  
We brought her to the airport in Houston and after visited with a good friend that lives in Katy. Little Lonnie swam and Matthew visited with his first best friend Michael -my friend's son that is Matthews age.  In a blink of an eye the eldest became a man in a split second. They now both tower over Lauren and I. Funny to think that eight years ago he was once the innocent young boy like little Lonnie.  
After Little Lonnie swam in the freezing cold I suggested we go to this Magical Unicorn treat shop off of Montrose in Downtown Houston. I did this because my husband truly did not believe that it was not a bar.  
The boys were sorta' reluctant to go inside because it is a little "girly" but the 1500-2500 calories of sweets cannot be resisted. Little Lonnie even made the owner sing happy birthday -and it was not even close to his birthday. All the while Matthew turned red and all that came out of his mouth was his usual expression, "Like, really mom?"  Yes, really! Big Lonnie was nowhere to be found.  
As we finished up our cupcakes, cake, and milkshake we walk back to the car.  I see that my car is parked but, no Big Lonnie.  Hmmm, where could he have gone?  I looked around and there he was with a briefcase in tow. I said, "Lonnie what the heck do you have a briefcase for?"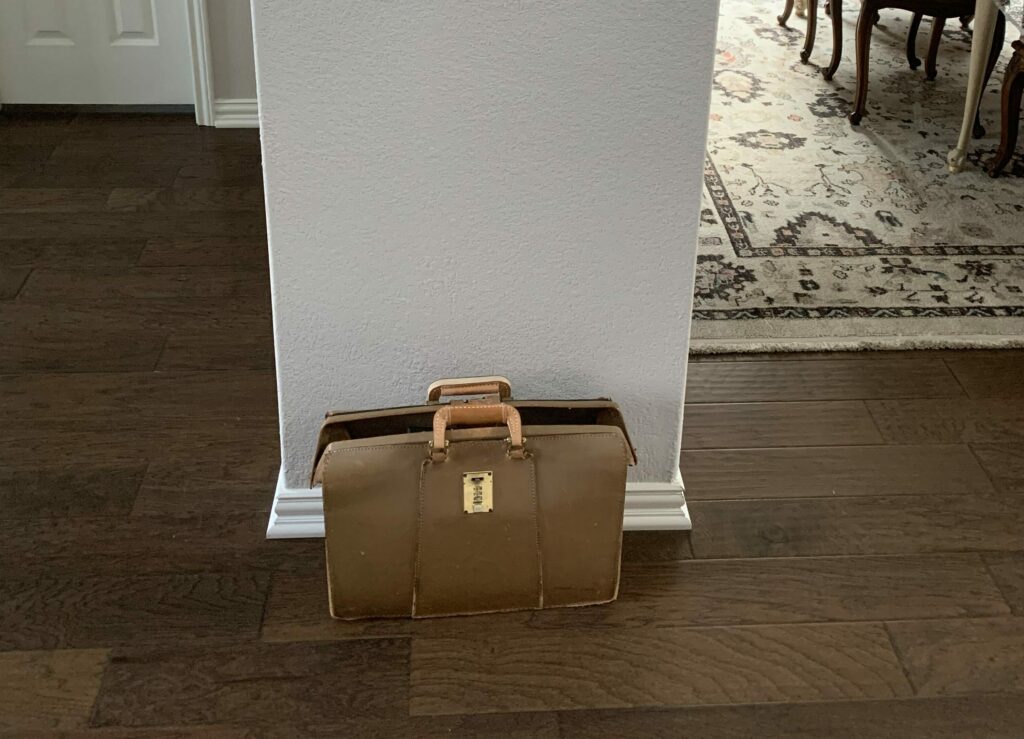 He quickly replied,"I found it scattered with all of its belongings in the back of the building on the ground.  Looks like someone went thru and tried to get rid of it. Hurry, go through it Gigi and call the owner!!!"  I am like ok, as I stumble through the casework I find two cards for an attorney.  Of course, they are closed.  It's 7:00 pm.  I left messages on both numbers and sent an email.  Big Lonnie was so worried we would not find the owner. 
I went as far as calling the hotel said person was staying at, but the security came on and told me they could not give any information on the person.  I said a silent prayer and asked questions in my head as I always did. 
At 9:35 pm the phone rings and a Texas number is coming in through the line.  "I believe you phoned me and may have found something that belongs to me," said the voice on the other line.  
The woman explained she had a case in Harris county and that she went to lunch and everyone's vehicle on that block were broken into. She explained that the only thing she was sad about was her briefcase. This briefcase she had had with her since she graduated from Law school and it was very special to her. 
I explained that I could not turn around but that I would be glad to mail to her. She was surprised at how eager I was to get her belongings back to her. She was about to cry and said that there are just not enough good people like me in the world. She asked me why I would go through all the trouble to find the rightful owner.  
I expressed that if it was my briefcase, I would want someone to do the same and go out of their way to find me.  
Was this good karma I thought?  Absolutely!  Although, I am not Buddhist I believe we should do to unto others as we want done unto us. Right?  
I was teaching my boys to go out of their way to help someone, even if it meant a simple leather briefcase. The relief from the woman's breath broke my heart. To be violated is sad and I helped brake the cycle that day. More importantly, I showed my family the importance of helping others.  
I look at the world we live in. So much hate everywhere. In schools, in churches, in communities, and in common conversations. I do not even watch TV anymore because in my opinion the world we live in is turning to people chasing ghost gods.  
God is simple and does not make things complicated. We need to reflect on the simple life rather than a lavished life full of things. 
When my dad died I received nothing from him. Not the necklace he wore everyday nothing… Then my sister got married and she gave me an old ring my dad bought at Walmart.  He would swim at my grandma's house and would always leave his wedding ring at her house. He bought a second one and would keep in case he would misplace his real ring. This was a very happy day for me when my big sister gave me his ring.  I wear on my gold necklace next to my Mary.  I know if I lost it I would be traumatized.  So, maybe I should engrave my phone number on it because I would be speechless if I loss it. If you ever find something, try your hardest to return it to its owner.  
We never know who or what that particular thing may mean to the other person and know that if you find said owner not only will you be filled with joy, the person who lost that special object will be filled with joy and excitement.